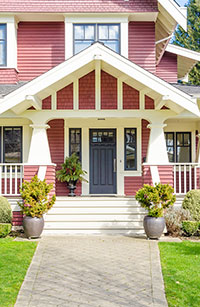 Photo: © karamysh - Shutterstock
Upgrading your home's exterior does not call for massive renovations; in fact, many projects can be accomplished in a day or a weekend. Check out these clever, thrifty renovations to create a welcoming home.
1. Keep it tidy and trim.
Mowing your grass and cleaning up your landscaping will keep your yard looking flawless. Trim your shrubs and pull weeds from your flowerbeds. It doesn't cost a penny for this fix, just a little sweat equity.
2. Add flowers.
Upgrading your landscaping can be as simple as adding a few container plants by your front door or hanging them from your porch. A splash of color from the plants will brighten up your entryway. You can purchase ready-made containers or assemble them yourself with your favorite plants and flowers. If you have a post style mailbox, adding some flowers around the base of it really perks it up.
3. Wash it with water.
You can rent a power washer to really clean up the place or simply turn on the garden hose to give it a quick cleaning. Don't forget the windows; make them sparkle inside and out by washing them with some white vinegar diluted with water.
4. Make it match.
Match house numbers, mailbox, and light fixtures in a similar style. They don't have to match exactly, but can be an eclectic mix and match as long as one element is the same―for example, color, finish, or style. At the very least, always make sure that they are clean and clear of dirt and debris.
5. Light up the night.
Lighting will boost your curb appeal at night, but wired landscape lighting can be expensive. Add solar lights along your walkway for a low-cost upgrade.
6. Add accessories.
Garden accessories that complement your home's style can really up the charm. Consider installing bird baths and feeders, sculpture, wind chimes, weathervanes, and sun catchers. Use cast off pieces of flat granite or slate to make stepping stones for a path.
7. Door details.
Installing molding around your front door can really make it stand out. There are many options available at home improvement stores. Choose a simple clean trim or get more elaborate with a decorative architectural style.
8. Perk it up with paint.
Give your home some character simply by painting your front door a unique color. Choose a contrasting color that complements your house's exterior paint to really stand out. For an extra bonus, you can also paint the trim a coordinating color.
9. Style for your windows.
Adding shutters to your windows can add style and color but also help control light and ventilation. This one is win-win when you consider that it may help to lower your electric bill in the summer, too.
10. Window boxes add a pop of color.
Plant brightly colored flowers that really stand out against the house color. A self-watering window box will help keep this upgrade low maintenance.